A 5 days training session for experts of the ACCOBAMS area, in particular from ACCOBAMS Partners, will be organized, in collaboration with SPA/RAC, IUCN Med, MedPAN and Lebanese CNRS, from 1st to 5th October 2018 in Lebanon.
It is aimed at reinforcing capacity on (i) the use of photo-id, (ii) the use of databases for experts relevant to ACCOBAMS which may seem complex for non-trained experts, and (iii) the creation of catalogues with relevant data for cetacean conservation.
The main objective will be to go towards standardization of the methods / tools used to share and valorize the data collected (i.e. through scientific publications) on cetaceans in order to optimize the efforts undertaken by all stakeholders involved in cetacean conservation and to improve the status of cetacean.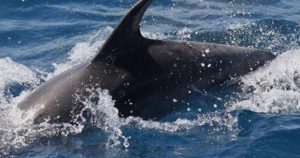 Around 40 participants from Mediterranean and Black Sea are expected to the training. Participation of ACCOBAMS Partners, ACCOBAMS experts as well as MPAs managers is encouraged.
Experts will be identified by ACCOBAMS, SPA/RAC and IUCN Med. Relevant MPA managers will be identified jointly with MedPAN.